| | |
| --- | --- |
| Despre Information Retrieval si RuSSIR 2012 Summer School | |
Două teme îmi atrag atenția în ultima vreme: Information Retrieval și Information Visualization.
Evident, în legătură cu managementul riscului. Și vă zic câteva cuvinte cheie: log file analysis, crowdsourcing, social media risks and privacy issues, protecting the rights of intellectual property.

Am să revin pe această temă.

Până atunci … information retrieval is a field concerned with the structure, analysis, organization, storage, searching, and retrieval of information (Salton, 1968) while information visualization makes data easier to understand using direct sensory experience especially visual. These concepts entail the implementing of techniques and instruments able to analyze large volumes of data taken from the internal or external environment of a business with the end purpose of leading to an improvement of the risk identification and analysis processes.

Ba chiar mai mult: The 6th Russian Summer School in Information Retrieval (RuSSIR 2012), August 6-10, 2012 in Yaroslavl, Russi, una din cele mai bune școli de vară în acest domeniu, cu acest program:
| | |
| --- | --- |
| Recomand doua evenimente | |
Un articol scurt, în care recomand două evenimente:
- Social Media Summit Iaşi, eveniment organizat de revista Biz (citiţi aici);
- Roland Berger Case Study Challenge 2012, eveniment organizat de compania de consultanţă Roland Berger, ce oferă studenţilor in ultimul an şi masteranzilor sansa de a experimenta provocarile si reusitele consultantei in management (citiţi aici).
| | |
| --- | --- |
| Conferinte securitate informationala si managementul riscului IT | |
În primul rând de interes academic, dar care sunt deschise şi publicului larg interesat de subiecte:

- Secrypt 2012, Roma, Italia - 24-27 iulie (aici)
- IFIP Sec 2012, Grecia - 4-5 iunie (aici)
- Future Security, Bonn, Germania - 4-6 septembrie (aici)
- Infoware 2012, Veneţia, Italia - 24-29 iunie (aici)
- Secureware 2012, Roma, Italia - 19-24 septembrie (aici)

Alte sugestii?
| | |
| --- | --- |
| Evenimente pe securitate informationala de la IDC | |
IDC organizează în România, destul de frecvent, evenimente în zona IT&C, multe din ele abordând securitatea informaţională.
Cum ar fi cel ce se desfăşoară zilele acestea IDC IT Security Workshop 2012 - Hacking Skills I and II sau cel din martie, IDC IT Security Roadshow 2012 - The Business of Security.

Un calendar cu evenimentele IDC poate fi accesat AICI sau mult mai complet AICI.

IDC is the premier global market intelligence and advisory firm in the information technology and telecommunications industries. We analyze and predict technology trends so that our clients can make strategic, fact-based decisions on IT purchases and business strategy.
| | |
| --- | --- |
| Participa la EUROSEC 2012 | |
The fifth European Workshop on Systems Security (EuroSec) aims to bring together researchers, practitioners, system administrators, system programmers, and others interested in the latest advances in the security of computer systems and networks.
The objective of the workshop is to discuss novel, practical, systems-oriented work.
EuroSec 2012 is associated with the Annual ACM SIGOPS EuroSys conference and will take place in Bern (Switzerland) on April 10, 2012.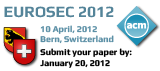 Call for papers
<< Start
< Inapoi
1
2
3
4
5
6
7
8
9
10
Inainte >
Sfarsit >>
Rezultate 19 - 27 din 102